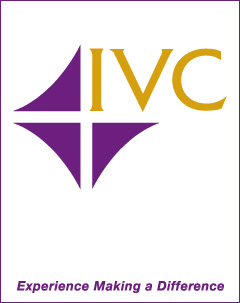 IVC Chicago began in September 2001 with twelve volunteers
Videos
The reflection component of the IVC program is essential. Members make a commitment to reflective prayer and journaling, attending monthly community meetings, and also meeting each month one-on-one with a spiritual reflector -- Marta, IVC Volunteer
A Jesuit Legacy Continued
Located in the heart of Chicago's West Side, John H. Stroger Hospital is a prime example of an agency whose work aligns with that of the IVC mission. Meeting the spiritual needs of patients in the city's largest public hospital is a challenge, and the Stroger chaplaincy program relies on Marta and Jorge to help provide personalized ministerial care. "I see our IVC volunteers as 'chaplain extenders,'" says Fr. Joel Medina SJ, former Director of the chaplaincy program at Stroger. "They reach out to patients I'm not able to visit and extend our ministry as Catholic chaplains."


As native Spanish speakers, Marta and Jorge are often able to put their language skills to work in the hospital. Jorge notes, "I work mostly with Spanish-speaking people. For them, it can be very important to have someone who speaks their language, because a lot of them are newly arrived immigrants who haven't learned to speak English, and to feel that somebody is there with them, who speaks their language, it changes their life and their outlook, at least for those few moments."

The reflection component of the IVC program is essential. Members make a commitment to reflective prayer and journaling, attending monthly community meetings, and also meeting each month one-on-one with a spiritual reflector.


For Marta, the spiritual enrichment program was an important part of why she joined. "The best part of IVC is that I belong to a community of like-minded individuals who want to express their faith in a very real and vibrant way," she says."Through our community meetings, journaling, and the monthly meeting with our spiritual reflector, we begin to develop eyes that are able to see the presence of God in everyday life. My IVC experience gives a deeper meaning to the ordinary through the transforming presence of God." ?Now entering its 12th year, IVC Chicago is one of the largest chapters in the country, with 40 members serving at 32 partner ministries across 3 dioceses and 4 counties in the Chicago area. IVC also has chapters in Detroit, Cleveland, and Cincinnati. To learn more, please visit www.ivcusa.org.