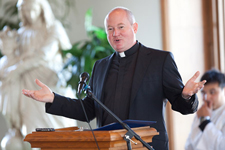 On August, 25, 2012, 10 men from the Chicago-Detroit Province entered the Society of Jesus novitiate in St. Paul, Minnesota. (Front row L-R) Daniel Kennedy, Stephen Molvarec, Nicholas Albin, Andrea Bianchini (middle in tan shirt), Daniel Dixon (Back row L-R) Damian Torres-Botello, Brian Geeding, Aaron Malnick, Matthew Wooters, Maxwell Bindernagel
Videos
It had not crossed my mind that I might be asked to serve in the Jesuit machinery of internal governance, but sometimes a vocation brings more surprising rewards than expected results.
By Fr. Patrick Fairbanks, SJ
?In my job as Jesuit Vocation Director, I often ask inquiring men this question, "So, if you were to be a Jesuit, what sort of work or ministry would you like to do?" Most men use words like education, work with the poor, overseas missions, and publishing. In my six years in the job, no one has ever responded with, "Oh, I'd love to be Vocation Director." Not even I thought I would serve in this capacity. It had not crossed my mind that I might be asked to serve in the Jesuit machinery of internal governance, but sometimes a vocation brings more surprising rewards than expected results.
After all, the Jesuits look for men who have a "plan" for the future, but also possess a mature "peace" in the Spirit—an openness that allows the Superior to mission the man depending on the needs of the day. In the summer days of 2006, the need was for our Midwest province to find the next Vocation Director, and I responded with obedience, yes, but also with a deeper joy that I was actually helping in the mission of the Province. I also felt a certain value in my capacity to respond "yes" when my Provincial asked. When Freedom allows that positive response, one might feel a kinship with other "yes" types such as Moses, Isaiah, Mary, St. Ignatius, and Sr. Helen Prejean.
It is in this Spirit of saying "yes" that I would like to introduce the men who have been accepted by our Jesuit Provincial to enter the Society of Jesus in 2012.
Entering the Society of Jesus novitiate from the Chicago-Detroit Province as of August, 25, 2012
Nicholas Albin
(CDT), 22, is from Chantilly, VA, and graduated from Bishop Denis O'Connell High School. He earned a BA in finance from Xavier University, where he was active in student government and St. Robert Bellarmine Parish. He speaks fluent Spanish.
Andrea Bianchini
(CDT), 30, is a native of Milan, Italy, where he earned an MA in electrical engineering. He received his PhD in physics from the University of Michigan and served as a eucharistic minister at St. Mary Student Parish. He designed optics software in Munich and has an interest in laser technology.
Maxwell Bindernagel
(CDT), 23, a Cleveland native, graduated from Ignatius High School. He earned an MA in philosophy from Boston College, where he was a member of the Pro-Life Club and Sons of Saint Patrick, and served as an RA and peer minister. He speaks fluent German and enjoys the guitar.
Dan Dixon
(CDT), 25, a native of Birmingham, MI, graduated from University of Detroit Jesuit High School. He attended the University of Notre Dame, where he earned a BA in theology and philosophy and an MA in education with the Alliance for Catholic Education. He spent the past two years teaching at a Catholic grade school in Phoenix.
Brian Geeding
(CDT), 24, graduated from St. Xavier High School in Cincinnati and went on to earn a degree in business marketing and geology from Miami University. He spent the last year as a volunteer with the Jesuits teaching religion and providing sacramental preparation on the Pine Ridge Indian Reservation in South Dakota.
Daniel Kennedy
(CDT), 22, graduated from St. John's Jesuit High School in Toledo and earned his BA in philosophy and theology from Boston College, where he received the Edward H. Finnegan, SJ, Memorial Award. He has done service work in Boston (hospice and tutoring), Kathmandu, and Guatemala.
Aaron Malnick
(CDT), 33, graduated from Northern Illinois University with a BS in marketing and sales. After earning an MA in Pastoral Studies at Loyola University Chicago, he most recently served in campus ministry at Alvernia University outside of Philadelphia. He is also a Knight of Columbus.
Steve Molvarec
(CDT), 32, is a summa cum laude graduate in history from Canisius College and earned a PhD in medieval history from the University of Notre Dame. He also served in pastoral ministry with graduate students while teaching history at Indiana University South Bend.
Damian Torres-Botello
(CDT), 34, hails from Kansas City and is an accomplished playwright and performer. He co-founded Full Circle Theater Company and has written and presented original plays on social justice themes. He earned a degree in theater from University of Saint Mary in Leavenworth, KS.
Matthew Wooters
(CDT), 25, is from suburban Washington, DC, and earned degrees in political science and history from John Carroll University. He served two years with the Jesuit volunteers in Belize, and most recently taught history and geography at the University of Detroit Jesuit High School and Academy.
---
2012 also brings a new contour to my mission. As I complete the 6-year term as Vocation Director, I once again feel that openness to handing on the torch and remaining available to serve in other areas of the Province. I pass this most privileged ministry to my successor, Fr. Jim Prehn, SJ, and look forward to continuing my work at Saint Ignatius College Prep in Chicago. Father Prehn and I both rejoice in the providence of God, who has blessed the Chicago-Detroit Province with an abundance of vocations this year.
It has been my pleasure to walk with these 10 men over the past several years, helping them to discern God's call and to anticipate that very profound "yes" at the root of any vocation. Please keep these men in prayer as they begin their novitiate experience this fall.