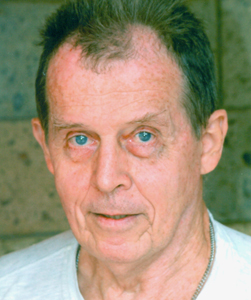 Fr. Richard W. Cherry, SJ
"Father Cherry was most admirable in his 100% dedication to whom and for what he was—a full-time Jesuit." - Fr. Bernard Mallia, SJ
In Memoriam: Fr. Richard W. Cherry, SJ; 1937-2013
Father Richard W. Cherry, SJ (AOR), who served as a Jesuit missionary to the people of Eastern Africa, died on Tuesday, April 2, 2013, at the Colombiere Center in Clarkston, Michigan. Born to parents Richard and Rose Marie (Wilkie) Cherry on April 3, 1937, he was raised in Toledo, Ohio, until joining the Society of Jesus at the Sacred Heart Novitiate in Milford, Ohio, in 1955. "I would label Dick a man of deep faith, absolutely committed to using his teaching skill to improve the lives of the poor," said Fr. Norm Dickson, SJ, a coworker of Fr. Cherry's at the Loyola Secondary School in Wau in the mid-80s. "His dedication to those who populated his classrooms was absolute."
As a Jesuit, Fr. Cherry earned a BA in Latin, a PhL in Philosophy, a ThL in Theology, and an MA in both Mathematics and Physics. With a view to his working as a missionary in India, Fr. Cherry was assigned to study Theology at the Papal Athenaeum in Poona, India, (1966-1970) and was ordained in Patna on March 18, 1969. He subsequently taught science at various Jesuit high schools in the Patna Province including New Delhi (1970-72), Jaipur (1974-82), and Patna (1982-85).
Fr. Cherry would spend the next 43 years assigned as a teacher in Eastern Africa. In 1985, Fr. Cherry began teaching at Loyola Secondary School in Wau, Sudan, (in its first incarnation) where he taught until Loyola had to be closed in 1987 due to the civil war. He continued to teach in Wau, usually as the only Jesuit there, at St. Mary's Senior Secondary Seminary and at John Paul II Intermediate School.
His work as a missionary eventually relocated him to Adjumani to work as Assistant Project Director for the Jesuit Refugee Service (1992-1994). He moved to Dar es Salaam and taught science at Loyola Secondary School (1995-2006) and also served as Superior of the Jesuit Community (2000-2004). "As a superior, he was very kind to me when I first arrived in Dar es Salaam," explained Fr. Maria Wenish, SJ, of the Madurai Province. He was a simple, quite man, who always enjoyed a 'safari evening.'" Father Cherry returned to Wau in 2006 to be involved with preparing for the reopening of Loyola Secondary School. He was assigned to serve as Acting Superior (2006-2007) and then teacher when the school reopened in 2008. In 2012, Fr. Cherry was missioned to supervise the laboratories and teach at St. Peter Claver Secondary School in Dodoma, but fell sick before he was able to take this mission. He went to Colombiere Center in Clarkston, Michigan, to deal with health needs until his death on April 2, 2013.
"Father Cherry was most admirable in his 100% dedication to whom and for what he was—a full-time Jesuit," said Fr. Bernard Mallia, SJ, a longtime friend and coworker at Loyola Secondary School. "He was a truly good and quiet companion whose presence spoke more than words could speak. I am sure he is enjoying life in heaven to the hilt!"
Memorial gifts
Memorial gifts may be made to The Jesuits, 2050 N. Clark Street, Chicago, Illinois 60614.
To make an online contribution, please click here.
---