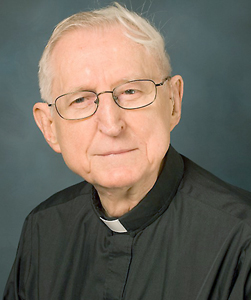 Fr. Francis J. Smith, SJ
"My family remembers Fr. Smith as holy enough to wear vestments, but human enough to love Las Vegas." - Tony Drew
In Memoriam: Fr. Francis J. Smith, SJ; 1920-2012
Fr. Francis (Frank) Smith, SJ, published poet and John Carroll University professor, died on December 13, 2012, after 63 years as a devoted Jesuit priest. Born to parents Thomas and Ella (Stack) Smith on May 22, 1920, Fr. Smith was an Ohio native. He is survived by his brother, James. "What a great man and mind and how very lucky we were to have known him," writes Angie and Kevin Geraci in an online tribute. "We so loved him and his wisdom."
Following his graduation from St. Mary's High School in Lorain, Ohio, he joined the Jesuits at the Milford Novitiate. During his Jesuit formation, he earned numerous degrees including a BA in literature from Xavier University (1941-1943), a PhL in philosophy and STL in theology from West Baden College (1943-1946 and 1949-1953), and an MA from Oxford University (1954-1957). Fr. Smith celebrated his priestly ordination on June 18, 1952.
Fr. Smith had a love for education and shared his passion through teaching. He served as an English professor throughout his life. During regency, he taught Latin and English at the University of Detroit High School (1946-1949). Fr. Smith then went on to become a professor and taught English at the University of Detroit (1957-1959), Colombiere College (1959-1963), and John Carroll University (1963-2006).
As well as being a devoted educator, Fr. Smith was also a published poet with four books of poetry to his name. John Carroll University inaugurated the "Francis J. Smith, SJ, Endowment for the Promotion of Poetry" in his honor. "Father Smith and I would talk about his poetry—especially a poem dealing with the violence in El Salvador in the 1980s," explains Fr. Robert Scullin, SJ, a longtime friend of Fr. Smith. "Through his poetry he engaged the world with his unique vision as a Jesuit."
"My family remembers Fr. Smith as holy enough to wear vestments, but human enough to love Las Vegas," writes Tony Drew, a longtime family friend.
In 2006, Fr. Smith moved to the Colombiere Center in Clarkston, Michigan, where he remained until his death.
Memorial gifts
Memorial gifts may be made to The Jesuits, 2050 N. Clark Street, Chicago, Illinois 60614.
To make an online contribution, please click here.
---