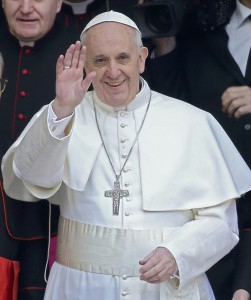 Newly-elected Pope Francis, Cardinal Jorge Mario Bergoglio of Argentina, waves after praying at the Basilica of St. Mary Major in Rome March 14. (CNS photo/Alessandro Bianchi, Reuters) (March 14, 2013).
Videos
It is with great gratitude and joy that the Midwest Jesuits welcome Francis, the First Jesuit Pope.
In a statement, V. Rev. Timothy P. Kesicki, S.J., Provincial of the Chicago-Detroit Jesuits, reflects upon the Election of Francis as Bishop of Rome and Holy Father (read more). Fr. General P. Adolfo Nicolás S.J. issued a statement on the election of Pope Francis (Read More).
Jesuit Fr. General Adolfo Nicolás Recounts His First Visit with Pope Francis (read more).
In a letter to Jesuit Fr. General Adolfo Nicolás, the Holy Father asks for prayers, offers blessings to the Jesuits and to all those who cooperate with the Society of Jesus in her activities, those who benefit from her good deeds, and those who participate in her spirituality. (read more ).
---